Shopping Cart
Your Cart is Empty
There was an error with PayPal
Click here to try again
Thank you for your business!
You should be receiving an order confirmation from Paypal shortly.
Exit Shopping Cart
RESTORECLEAN PRO​
MOLD. FLOOD. FIRE
Home Rescue​​ ​Specialist
Please enter a description
Please enter a price
Please enter an Invoice ID
Water damage restoration
Water damage restoration is the process of restoring a property back to pre-loss condition after sustaining any level of water damage. While there are currently no government regulations in the United States dictating procedures, two large certifying bodies, the Institute of Inspection Cleaning Certification (ICRC) and the RIA, do recommend standards of care. Most companies use the RIA procedural standard, which is the S500. It is based on reliable restoration principles, research and practical experience with extensive consultation and information gathered from numerous sources. These include the scientific community, the international, national and regional trade associations serving the disaster restoration industry, chemical formulators and equipment manufacturers, cleaning and restoration schools, restoration service companies, the insurance industry, allied trades persons and others with specialized experience. The S500 water damage guide is subject to further revision as developments occur in technology, testing and processing procedures.
The S500 provides a specific use of practical standards for water damage restoration. It does not attempt to teach comprehensive water damage restoration procedures; instead it provides the foundation and basic principles of proper restoration practices. Prior to specifying the job scope and procedures, the S500 must be reviewed. This is important so that the individual circumstances of each restoration job is taken into account. Users of the S500 must be in pace with technology and follow all rules and regulations of a country whether it may be federal, state, provincial or local law. Federal, State and local laws might also determine who can do the water damage restoration assessment and who can authorize remediation procedures. In British Columbia (Canada) the Insurance Council of British Columbia has determined that an Insurance Adjuster working for an Insurer (to mitigate a loss or potential loss) can authorize restoration efforts on private property even though it may not be a covered peril; but, the Adjuster is not accountable for the outcome of any restoration effort, even if the Insured party was, or could be, knowingly placed in harm's way. Each case of a water damage may be unique and common sense may require deviation from the S500.[1]
Contents
• 1Loss assessment and evaluation
• 2Classifications
• 3Categorization
• 4Principles in drying
o 4.1Structure and contents
o 4.2Monitoring
o 4.3Completion
• 5Step-by-step process
Loss assessment and evaluation                                                  
Water damage services include the inspection of the affected area(s) with water sensing equipment such as probes and other infrared tools in order to determine the source of the damage and possible extent of area affected. Restoration services would then be rendered to the residence in order to dry the structure, sanitize any affected or cross contaminated areas, and deodorize all affected areas and materials. After the labor is completed, water damage equipment including, but not limited to, air movers, air scrubbers, dehumidifiers, wood floor drying systems, and sub floor drying equipment is left in the residence. After a period of three to four days after the labor is completed, a reevaluation
the residence is taken to monitor the drying process, and any equipment not further needed is removed as to keep the charges under control.
Classifications
Water damage is classified into one of the following classes
Class 1 water damage (least amount of water, absorption and evaporation): Water losses that affect only part of a room or area, or larger areas containing materials that have absorbed minimal moisture. Little or no wet carpet and/or cushion are present.
1. Class 2 water damage (large amount of water, absorption and evaporation): Water losses that affect at least an entire room or carpet and cushion(pad). Water has wicked up walls less than 24". There is moisture remaining in structural materials (e.g., plywood, particleboard, structural wood, concrete).
2. Class 3 water damage (greatest amount of water, absorption and evaporation): Water wicked up over 24", or water may have come from overhead affecting ceilings, walls, insulation, carpet, cushion and sub-floor. The entire area are saturated.
3. Class 4 water damage (specialty drying situations): These consist of wet materials with very low permeance/porosity (hardwood, plaster, brick, concrete, stone). Typically, there are deep pockets of saturation, which requires very low specific humidity.
Categorization
Water, under the IICRC's S-500 Standard and Reference Guide for Professional Water Damage Restoration, has been broken off into three categories.[3] These categories are based upon the level of contamination present, or presumed present, in the source water.
4. Category 1 is water from a clean or sanitary source. Previously known as clear water or clean water,[4] this descriptor has since been removed to reduce confusion. These can include water from broken clean water supply lines; clean water from toilet tank or bowl; faucets; and bottled water. Although the source may be from a clean source, category 1 water can quickly degrade into category 2 or 3 depending upon such factors as time, temperature, and contact with contaminants.
5. Category 2 is water with some level of contaminants that could cause discomfort or illness if ingested. Previously known as grey water, this descriptor has since been removed to avoid confusion. Sources for category 2 water may include washing machine overflow; toilet overflow with some urine, but no feces; and dishwasher overflow. Category 2 water can quickly degrade into category 3 depending upon such factors as time, temperature, and contact with contaminants.
6. Category 3 water is grossly unsanitary, and could cause severe illness or death if ingested. Previously known asblack water or blackwater, this descriptor has since been removed to avoid confusion. Sources for category 3 water include, but are not limited to, sewage; flooding from rivers or streams; wind-driven rain, water from beyond the toilet trap; water from the toilet bowl with feces; and standing water that has begun to support microbial growth.
Principles in drying
Structure and contents
When working within a residence, it is often the case that those who are performing the water damage restoration must work with and around the contents of the home. This includes, but is not limited to, furniture, electronics, books, and any other materials that may have been affected by the water damage. The moving around of the said contents is often referred to "contents manipulation." Water damage restoration firms often bill content manipulation on a per hour basis.
Contents may also require treatment due to the effects of water damage. This may include, but is not limited to, sterilization, sanitization, deodorization, drying, and storage of said contents. Other contents may simply be unsalvageable, or the cost of having them salvaged would exceed its current value.
Monitoring
After the water has been extracted and any non-salvageable materials have been removed, water damage professionals should place drying equipment according to industry guidelines for capacity in the affected areas. Industry standards state that drying vendors should return to the residence at regular time intervals, preferably every twenty-four hours, to monitor the equipment, temperature, humidity, and moisture content of the affected walls, contents, or other affected materials. Should one area be dry and another affected area still wet, the firm will relocate or remove equipment accordingly.[5]
Completion
Once temperature, humidity, and moisture content are deemed acceptable according to industry standards, drying equipment is removed and the drying process is complete. There are defining criteria and methods to be used for assessing water damage and establishing restoration procedures, but because of the unique circumstances of every water damage restoration project, it is impractical to issue blanket rules that apply to every situation. In extenuating circumstances, deviation from standard practices is appropriate.[6]
Step-by-step process
Though the water seepage will stop once the source of water has been identified and plugged, the problem does not end there. It is essential to determine the appropriate water extraction method, which may range from the use of a wet-dry vac unit to more heavy duty equipment like submersible pumps. Once this has been completed, the process of drying and dehumidification should start. Oftentimes, affected surfaces and areas look dry once the water has been extracted and removed, but there remains hidden water and moisture.[citation needed] This would call for the use of drying and dehumidifying equipment. As such, carpets, walls, and flooring require removal, drying, cleaning, and disinfecting.
Contact Us to ask a question, provide feedback, or report a problem.
RestorClean Pro.
PH (240) 316-8940
TOLL FREE (877) 560-8940
www.restorclean.com
www.facebook.com/restorclean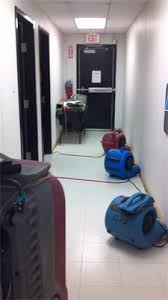 Moisture Control is the Key.



Things You Should Know about Mold

1. Potential health effects and symptoms associated with mold exposures include allergic reactions, asthma and other respiratory complaints.

2. There is no practical way to eliminate all mold and mold spores in the indoor environment; the way to control indoor mold growth is to control moisture.

3. If mold is a problem in your home or school, you must clean up the mold and eliminate sources of moisture.

4. Fix the source of the water problem or leak to prevent mold growth.

5. Reduce indoor humidity (to 30-60%) to decrease mold growth by:

o Venting bathrooms, dryers and other moisture-generating sources to the outside

o Using air conditioners and de-humidifiers

o Increasing ventilation

o Using exhaust fans whenever cooking, dishwashing and cleaning

6. Clean and dry any damp or wet building materials and furnishings within 24-48 hours to prevent mold growth.

7. Clean mold off hard surfaces with water and detergent, and dry completely. Absorbent materials such as ceiling tiles, that are moldy, may need to be replaced.

8. Prevent condensation: Reduce the potential for condensation on cold surfaces (i.e., windows, piping, exterior walls, roof, or floors) by adding insulation.

9. In areas where there is a perpetual moisture problem, do not install carpeting (i.e., by drinking fountains, by classroom sinks, or on concrete floors with leaks or frequent condensation).

10. Molds can be found almost anywhere; they can grow on virtually any substance, providing moisture is present. There are molds that can grow on wood, paper, carpet, and foods.

Contact Us to ask a question, provide feedback, or report a problem.

 



Phone: (240) 316-8940
Toll free: (877)560-8940
Fax: (877) 560-8940
Email: [email protected]
We speak English and Spanish.


/